Mac OS X jigùm-dè vörçion wa 10.10.3.
Rīsetiŋ paswörd
Edit
In Mac OS X, rīset paswörd dè meŧod wa rīkrieit wiŧ anođèr yusā wiŧ admin ràit[1][2].
Meŧod-wa <Kommand>+<S> when rīstart. In root shell, "mount" rūt fouldèr / wiŧ kommand folowen:
mount -uw /
Đen, rm setùp komplit signol fayl à "/var/db/.AppleSetupDone". Rīstart kompyutā. Đen nei rīkwair tu setùp 1-ge pikkapika admin yusā. Login yusiŋ nigè admin yusā en rīset orijinol admin yusā dè paswörd.
Mac OS X Yosemite (10.10)
Edit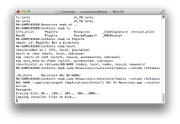 Bai difàult Yosemite wa instolàbol onli via App Store in Mac OS X. Hajiman, Yosemite dè instoleiçion disk wa keyi krieit wiŧ rīsōrsfayls wiŧin[3]. Taim tu biuld nigè instoleiçion disk wa àraund severol minùts tu kopi from harddisk tu YSB disk.
Shortly aftèr Apple made Mac OS X public, they announced the 10.10.1 quick patch. Nigè pätč wiŧ faylsaiz 311 MB wa ikspekten tu imprūv OS dè steibiliti, kompätàboliti, en sekyuriti bai solviŋ problèms listen bilow[4]:
Improves Wi-Fi reliability
Improves reliability when connecting to a Microsoft Exchange server
Resolves an issue that may prevent Mail from sending messages through certain email service providers
Addresses an issue prevents connecting to remote computers using Back to My Mac
Resolves an issue where sharing services, Notification Center widgets and Actions may not be available
Addresses an issue that could cause Notification Center settings to not be retained after a restart
Addresses an issue that might prevent the Mac App Store from displaying certain updates
Addresses an issue that could prevent some Mac mini computers from waking from sleep
Resolves an issue that might prevent Time Machine from displaying older backups
Addresses an issue that might prevent entering text in Japanese
Mac OS X 10.11
Edit
Riförènses
Edit
Community content is available under
CC-BY-SA
unless otherwise noted.